This story contains real entities, however the humans and bicycles are imaginary. 
Captain Pistachio and the Daft Master heard a rumor that waterline road of the San Francisco Peaks had been destroyed by the Shultz Fire and subsequent floods of 2010. After playing a few hours of Finnish party poker, the pair pedaled their mountain-bikes up into the Kachina Peaks Wilderness of Northern Arizona.
The moonlight guided their way over 10,800 ft. Fremont Saddle (between Doyle and Fremont Peaks), then down the IB trail into the inner basin. Silver mushrooms of the White Pine Forest glistened from their lights. They made it to the 10 mile stretch of waterline road; this dirt-road descent usually takes 30 minutes to ride. That night it took 3.5 hours. Their progress was impeded by flood debris, boulders, ruts, flood deposited gravel piles, thick hay (erosion mitigation), and a skunk. No one was sprayed.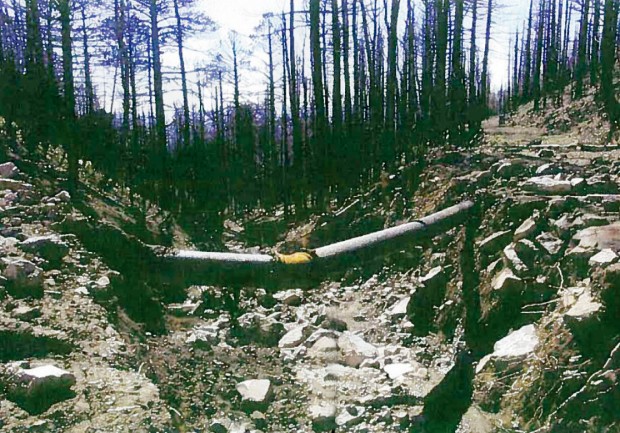 In the Eastern canyon between Doyle Peaks and the baby peaks, flood waters had carved 20+ foot canyon walls and obliterated the road. To continue required delicate, 2-person bicycle portage up and down steep, loose and rocky slopes. Around 2:30am it began to rain in the huge and dangerous flash-flood zone. They could only laugh because it seemed all too stupid and funny.
The rain never got worse than a light sprinkle, and by 4am they made it out of the burn area.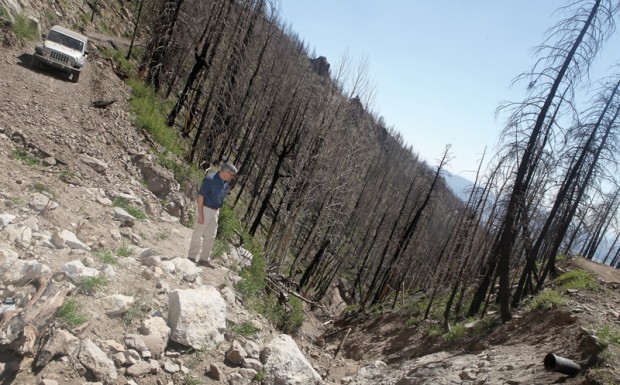 Currently waterline road is getting rebuilt by the city of Flagstaff, AZ and the USFS.